This year we were delighted to speak at the Beyond Multiple Choice conference, a three day virtual event where assessment leaders from around the world shared ideas on innovating and improving all areas of testing.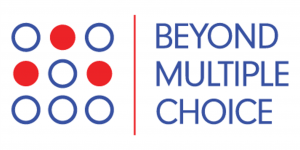 David Haggie, assessment enthusiast and Managing Director of GradeMaker, ran a session investigating the barriers to innovation that plague so many high-stakes assessment providers, and how stagnant authoring processes are often the root cause. 
Inspired by the theme of the conference, 'aligning with what's possible', he discusses why authoring no longer needs to hold everything back, but can instead, finally, facilitate the innovations so many organisations are looking to achieve. 
Free resource: Innovation readiness checklist
Whether you want to enhance the quality and security of your processes, lay a strong foundation for print and digital testing, or just want to improve the efficiency of your production, a solid authoring system is crucial to success.
When you have the right operational foundation in place, your teams will be able to more quickly upscale production, adapt to new projects and launch into new ventures.
Use this quick checklist to identify the processes which are holding you back from delivering innovative assessments.